Tebow heads to the minors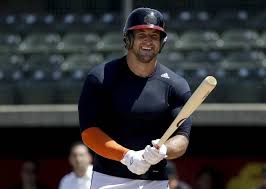 Former NFL quarterback Tim Tebow made the decision on Sept. 6 to try his hand at baseball. Most people know that Tebow gained recognition on the gridiron at the University of Florida.
In 2007 Tebow was a Heisman Trophy recipient, and then the quarterback was a finalist in the voting for the trophy again in '08 and '09.
After college, Tebow was drafted by the Denver Broncos in the 25th round of the 2010 NFL draft. In 2011 he played in the shadow of Kyle Orton and was later traded to the New York Jets in March of 2012 after the Broncos signed Peyton Manning.
A year later he was picked up by the New England Patriots where he stayed for two years until he ended his NFL career with the Philadelphia Eagles.
In the mix of all of that, during the time he was with the Patriots, ESPN signed Tebow on as an analyst and he currently holds that position.
As previously mentioned, Tebow has taken on a new adventure in life. He shot for the stars and pulled a Michael Jordan on us—he tried out for baseball.
Being that Tebow is 6-foot-2 and 236 pounds is enough to catch the scouts' eyes as a potential power hitter in their lineup. However, power is nothing without skill.
Tebow did play high school baseball and according to what his former coach Greg Mullins told the Washington Post, Tebow had some pro potential.
Despite Tebow being away from the game for quite some time, nine-time all-star Gary Sheffield sees potential in him and was impressed with his swing.
Chad Moeller, a former professional catcher and also Tebow's baseball mentor, is impressed with his mentee's work ethic, swing and athleticism, and shows confidence in Tebow's potential.
However, not everyone jumped on the Tebow train to the MLB, as scouts and fellow NFL players voiced their opinions about the former quarterback's aspirations.
Orioles center fielder Adam Jones tweeted, "After this MLB season I'm going to tryout for the NFL this offseason. I haven't played since HS but I've played in a few Turkey Bowls Since!"
An MLB scout, wishing to remain anonymous, told ESPN's Jason Stark that nobody can overcome 11 years of not playing a game.
Russell Wilson of the Seattle Seahawks, who has been drafted by MLB teams in the past and even played in the minor leagues, wasn't in favor of Tebow when he said that he hopes Tebow can hit a curveball and that baseball is a hard game.
Personally, I applaud Tebow for putting himself out there and chasing a dream. You can't fault anyone for going after what they want.
However, I do see the other side to this. That side to me is that there are many people who have worked their whole lives at baseball.
They dedicate their lives to it and then a celebrity and former professional athlete wants a shot and gets his chance in a week after the Mets sign him. Even though he's in the minors, there still has to be some talented, younger and aspiring players who could have had his spot.
I wish Tebow the best but that's the only problem I see, and as an athlete myself, I can see where there might be some tensions rising amongst other pro-potential players right about now.
BRANDON JACES