Pitt football inspiration debuts on Ellen's show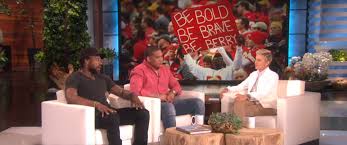 I was working on my final project for a class when I was thinking about a bunch of other things I'd rather be doing. Then I remembered a story I heard about the University of Pittsburgh's running back, James Conner.
If you haven't heard about Conner's story, the short of it is this: he was diagnosed with Hodgkin lymphoma in December, but he hasn't let that stop him from pursuing his dreams. In fact, back in March, Conner participated in the first day of spring practice for the Panthers 24 hours after his eighth treatment for the disease.
Matt Canada, offensive coordinator for the Panthers, told CBS Sports that Conner wakes up every day and wants to go to practice. He continued to fight to go to class, fight to be here.
"We hope he can come back full speed for his health, period, but if he can come back and play at a high level it will be a tremendous credit to who he is," Canada said.
A woman we all know, Ellen DeGeneres, heard about James' story and decided to have him on her television show – and rightfully so. The show aired Thursday and if you haven't seen it, you should look it up online.
Little did Conner know that Ellen had a surprise for him when he got there.
Eric Berry, a safety for the Kansas City Chiefs, has been battling Hodgkin lymphoma as well while pursuing his career in the NFL. It turns out that Conner looks up to Berry for inspiration on the field and in his battle with the disease.
Well, Ellen, who in my opinion beat Oprah with her surprise, brought Berry onto the set when Conner was there to meet him. This topped any Volkswagen Beetle that anyone has ever won at a live showing of "Oprah."
The look on Conner's face said it all when he saw Berry come onto the set. It was a look of true happiness.
I really think these two men are inspirations because they work so hard for what they love, and — despite going through treatments and the physical demand of football — they still smile through it all.
As I look at finals, they don't look so bad at all. I mean just look at Berry and Conner as they play hard on the field and go through treatment when they are off it.
So if you're ever feeling a little stressed or overwhelmed, which is normal – and particularly at this time of year — just take a deep breath and remember James Conner and hopefully it'll alleviate some of your nerves.
With that, I want to wish everyone a great finals week and a great summer. Remember to check out that video of James on "Ellen" and I'll be back at it in the fall.
BRANDON JACES
[email protected]