Artistic? Me? Who would have thought?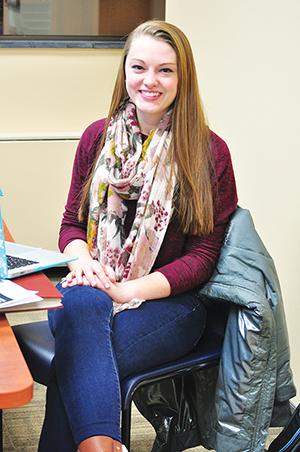 If someone would've told me that within my first year at Gannon I would become a member of Art Club, arts and leisure editor of the school newspaper and a recipient of the university's fine arts scholarship program I probably would've laughed in their face.
But much to my surprise, here I am, and all of the previously mentioned things are true.
I think I would've laughed at the person who told me all this not because it is funny to be associated with these artsy activities, but because I have never really considered myself to be artistic.
The only somewhat artistic thing I've done growing up was dance classes, which in my opinion, was more of a social and physical activity rather than an art form.
Of course dance is considered a form of art, and it is a form that I have loved to watch ever since I was a little girl who wore tutus and dreamed of being in the "Nutcracker."
When it comes to my actual technique and artistic ability, however, it would be silly to suggest that I am the next Misty Copeland.
I guess it is somewhat ironic that I was selected as one of the recipients of Gannon University's Fine Arts Schuster Scholarship because while I may not have thought I was artistic, others did.
I submitted my scholarship resume with the belief that I would not be selected, but I did it to please my mother in an attempt to gain some additional scholarship money.
What I didn't quite realize was that by submitting my resume and being selected as a Schuster Scholar, I would eventually be shaping my path to becoming the artistic person I never considered myself to be.
Through my work with the Schuster Scholar program and The Gannon Knight this past semester, I've been able to grow artistically – not by creating art, but by observing art.
Becoming arts and leisure editor was something that sort of catapulted me into the world of theater, music and visual art at Gannon.
Before gaining this position, I probably never would've attended a single Schuster Theatre production, or attended the number of the art events that I did.
More than likely, I wouldn't have become a member of the Art Club without writing a feature story about the organization, and I wouldn't have attended our university's spring concert if I hadn't have written about the artist reveal.
My taste in art, especially music, has changed and expanded quite a bit since I've come to Gannon as well.
Don't get me wrong, I still enjoy listening to my rap music and High School Musical Pandora station, but I've come to appreciate more serious artists from a wide range of genres and I've attended half a dozen concerts just during my two semesters here.
While I don't give myself the artistic credit that others may, I think that I have become an artist in my own terms by surrounding myself in the artistic culture.
I never imagined that I – the girl who still draws stick figures for people and can't match a pitch to save her life – would become more artistic in my first year of college.
I'm glad that I gave the arts at Gannon a shot, and who knows, maybe I'll become the next Picasso…or maybe not.
OLIVIA BURGER
[email protected]