Don't let the 'what ifs' hold you back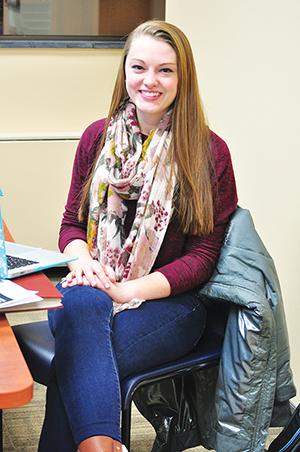 Heading into my freshman year of college I didn't quite know what to expect, just like every other anxious and apprehensive first-year student.
College put a lot of insecurity in my mind and I had a lot of "what-ifs" running through my head.
What if my roommate doesn't like me? What if I don't make any friends? What if my professors are too mean? What if the workload is too much? What if I just turn into a stress ball and flunk all my classes and become an epic failure in life? WHAT IF???
If you know me at all you know that I tend to stress over the littlest and most obscure things, so for me, college was just a massive black hole of unanswered questions and doubt.
Although I second-guessed nearly every aspect of my time to come at Gannon, there was one "what if" that never came to mind and was something I never questioned or wavered in although some people expected me to.
Entering college in a relationship as a freshman student is something that many people may see ending in some sort of disaster or messy breakup, especially when there is distance involved.
For me, entering college in a relationship as a freshman student was nothing I couldn't handle and distance was just as irrelevant as the people who told me it would be an issue.
Maybe I'm a hopeless romantic, obliviously optimistic or just genuinely lucky, but my relationship was about the only thing I didn't doubt before coming to Gannon, and in many cases, it's the only thing that's kept me sane during my times of turmoil and stress here.
It certainly isn't easy spending weeks apart from the person I've spent nearly four years of my life with, but it certainly isn't something that's not worth putting the effort into.
If anything, spending time apart is something that has made me more mature and confident in my relationship.
I'm a firm believer in being your own person, especially when it comes to relationships.
The only way to be something with someone else is to be something by yourself.
There's really no way that you can find true happiness in someone else if you're not happy with yourself, and I don't think that this is a concept that is understood by a lot of people in my generation.
I feel like people my age are quick to jump to conclusions and assume that a healthy relationship consists of perfectly staged photos and cute text messages, thus creating this unattainable status of "relationship goals."
In my opinion, a healthy relationship just consists of two people who succeed on their own but bring out the best success in each other.
Through my time spent at Gannon, I've found myself in more ways that I thought possible and I've learned a lot about the person I want to become.
I'm just incredibly lucky to have found something very special with someone who can say the same for himself, and I think that is what makes being in a long-distance relationship not as complicated as it could be.
OLIVIA BURGER
[email protected]