Embracing your inner fan-girl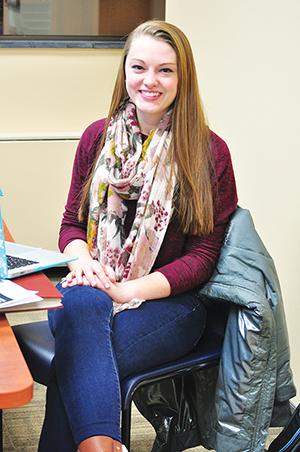 Having had slightly less than four hours of sleep and all back-to-back morning classes on Monday, my appearance resulted in a hideous sweatpant and no makeup look and a day filled with multiple yawns and struggling to keep attention in class.
It was evidently clear that I was riding the struggle bus that morning, but it was a small price to pay to for a night that exceeded all my crazy fan-girl dreams.
Sunday night I attended a concert at the Altar Bar that featured a name that has visited Gannon University before, Mike Stud. Some current students might recall that Stud was an opening act for the spring concert held in 2014.
Although I wasn't a student here at the time, I still attended the concert. I've now gone to four different Stud concerts so you could say that I'm a pretty big fan, which might surprise anyone who knows anything about my other tastes in music.
In the past year I've attended a Mayday Parade, Panic! at the Disco and Lana Del Rey concert in addition to two Stud concerts. I also already have plans to see The 1975 and Halsey this summer.
This is quite the odd range of artists if I do say so myself. How does one go from the sulky sad melodies of drama queen Lana Del Rey, to the loud party beats of Mike Stud? I'm not really sure myself, honestly, but I do know that I happen to love them both.
Some of the students on this campus probably think Stud's music is rather awful and just "rap crap" as my sister says, but for me, it's more than the music itself.
When I listen to his music I think of the concerts I've gone to and the memories I've made with my friends while listening to his music.
In a way it's an anthem for my small group of friends; something we can look back on and remember how we were young and alive – and yes I know how cliché this sounds.
I guess this feeling is what compelled me to wait in line for four hours just for a meet and greet and a front and center spot for an artist whom some people have never heard of.
In my opinion, the blisters on my feet and the soreness in my shoulders the next day were 100 percent worth the pain for a memory of my best friends and I listening to our favorite person in a perfect moment.
No matter who your artist is, whether it be an indie unsigned rapper, or a Grammy- winning headliner, we all have that one person that we go totally crazy for.
There's a certain spark we feel when they belt out that high note or sing that lyric that you love.
Nothing compares to the moment when you see the person you've been obsessing over for the past few months, and hear their voice live rather than through your ear buds or car speaker.
Now it may just be my 12-year-old inner fan-girl talking here, but I do think there's something to be said for embracing your embarrassing crazed fandom side. There's no shame in loving your music – whatever it may be.
OLIVIA BURGER 
[email protected]