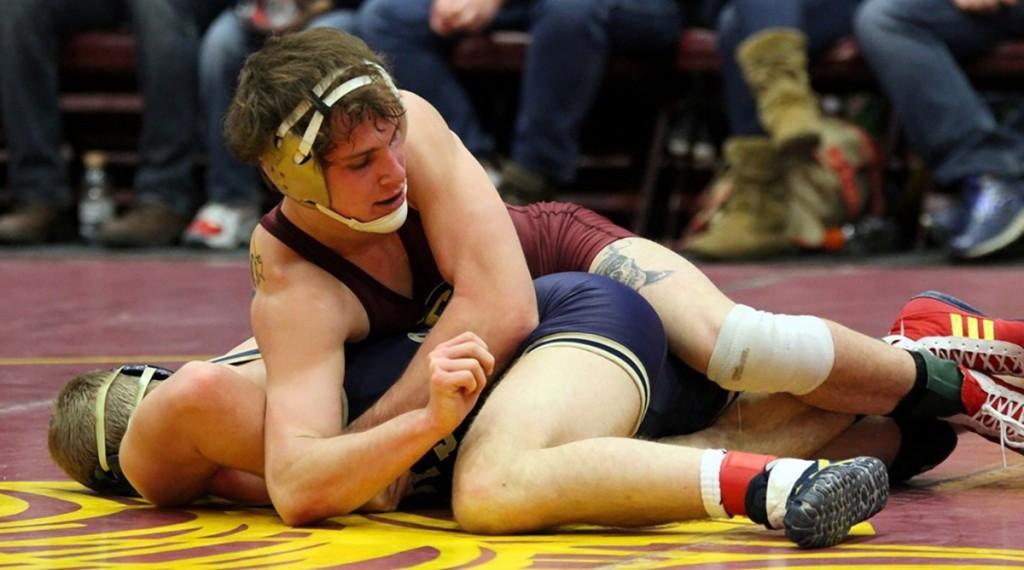 Sophomore Eric Lewandowski started the Gannon University wrestling team's 25-12 comeback win over Wheeling Jesuit University on senior night Wednesday at the Hammermill Center.
Gannon and Wheeling Jesuit were meeting for the very first time ever. The decision clinched the Knight's eighth consecutive winning season.
The Knights dropped two early bouts but recovered impeccably to go on a 16-0 run through the middleweight classes.
Redshirt sophomore Garret Smith and redshirt junior Casey Pace played major roles in this 16-point swing, as they were both able to capture victories over regionally ranked wrestlers.
Lewandowski started the point streak, as he was able to pin Wheeling Jesuit's Skyler Terrell 1 minute, 44 seconds into the second period. This victory marked his second pin of the year, and it was his first match back after a short absence from competition.
"The match was a great way to come back after being out for the last couple matches," he said. "I scored when I could and most importantly I got the pin for the team."
Lewandowski, who is going into this weekend's regional tournament ranked No. 5, is currently riding a season-high seven-match win streak and finished off the dual meet season by improving his overall record to 12-5.
The sophomore from Depew, N.Y., competed strongly this season at the PSAC championships as he compiled a record of 3-2 on his way to a fifth-place finish. He defeated Kevin Laubach from NCAA Division I Bloomsburg 7-4 during the bout for fifth place.
Lewandowski said he was feeling confident going into the regional tournament.
"I'm on a nice win streak right now and I'm going to carry that confidence with me throughout the tournament," he said.
The sophomore wrestler has high goals and expectations for this postseason.
"I want to be national champion." Lewandowski said. "That doesn't come without thinking you can do it, so I expect to be in the mix for a title."
The Knights victory improved their record to 7-5 on the season and they also jumped one spot in the regional rankings to No. 5.
Gannon will return to action Friday and Saturday for the NCAA Division II Super Regional One that will be hosted by West Liberty University.
A total of five Knights wrestlers – Matt Turek (125), Lewandowski, Garret Smith (157), Zack Zelcs (174) and heavyweight Nick Budd – are listed in the individual rankings going into the tournament.
CHASE MANTINI