I'm (they're) on a boat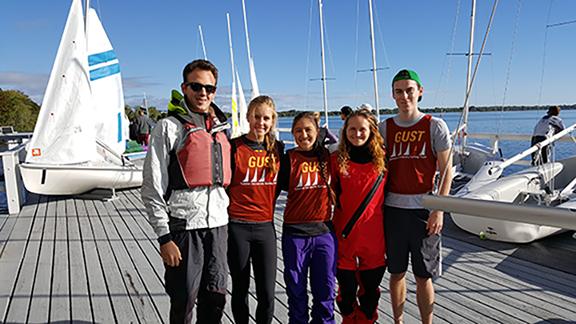 I bet you didn't know Gannon University has a sailing team. If you did, then I bet you didn't know what team members do in the offseason. And if you did, well, you can stop reading since you're such an expert.
It's not necessarily surprising that the school has a sailing team, given its proximity to Lake Erie and Presque Isle Bay.
But when I started to consider the idea, the main question I was pondering was, what does the Gannon University Sailing Team (GUST) do in the offseason, when it's too cold to be out on the water?
My first source was the skipper himself, A.J. Miceli, the recently retired director of the School of Communication and the Arts.
I had no idea what to expect in the way of an answer but what he told me made sense — not that I'm the Ferdinand Magellan of sailing or anything.
Given the combination of snow, cold weather and ice in Erie there isn't much that the team can do in terms of actual sailing during the winter. But the team still manages to keep plenty busy.
"During the off-season we mainly do fundraising, service hours, a little "chalk talk" (studying rules and tactics) and recruitment," Miceli said.
One of the team's fundraising tactics is selling bottled water with the GUST logo in the Center for Communication and the Arts. They're only a dollar apiece and they're perfect for quenching even the utmost of thirsts.
Senor sailor Katherine Hanna said the team participates in Gannon events and works on making money to offset various costs incurred throughout the season.
"We work on our service hours during our offseason to get club funding," Hanna said. "We also participate in events Gannon hosts that we normally can't participate in during the on-season like the activities fair and such."
When it comes to recruiting, the team is pretty much open to anyone who is willing to commit his or her time to the team, practices and regattas.
The team is open to students enrolled at Gannon and also features one sailor, sophomore Michal Szelwach, who sailed competitively in high school.
"We had 24 members on the team at the end of the season, but we now currently have 30 members due to our efforts at recruitment," Szelwach said.
Even though the nearby lake and bay can't be confused with an ocean, things can get pretty rocky out there.
The team utilizes the services of the Erie Yacht Club, renting four boats from the club. Each boat requires two people — a skipper and a crew member.
Miceli said practices are usually held Tuesdays and Thursday from 4:30 p.m. to sunset, and Saturday and/or Sunday afternoons or evenings.
The team is not responsible for bringing its own boats to the out-of-town competitions.
"When we travel to regattas the venue provides all the boats, sometimes as high as 18 all at once in the races," Miceli explained.
As for offseason, it varies from year to year. Team members are highly opportunistic and will sail as long as Mother Nature allows them to.
"Our on-season is as long as the weather is good so this year we were able to go from August to about November and our spring season consists of one or two regattas in April and May," Hann said.
"Unfortunately it is too cold to get back on the water up here but we use that time to travel south for some regattas in Virginia and Maryland."
As the winter winds down and springtime approaches, people will look to support the baseball, softball, lacrosse and water polo teams, but don't forget about sailing.
Whether it's saying "good luck" before their next regatta or donating some money to fund their endeavors, it's important to support all teams and clubs.
In fact, just so you're aware, the sailing team will have its first and only regatta of the spring coming up in less than two months – that's at the University of Maryland in Annapolis, April 8-9, Miceli said.
The Knights will be sailing against the University of Maryland, American University, University of Virginia, Loyola of Maryland, Washington College and St. John's College.
Show some love and maybe even consider joining the team and learning an awesome skill.
BRANDON JACES
[email protected]