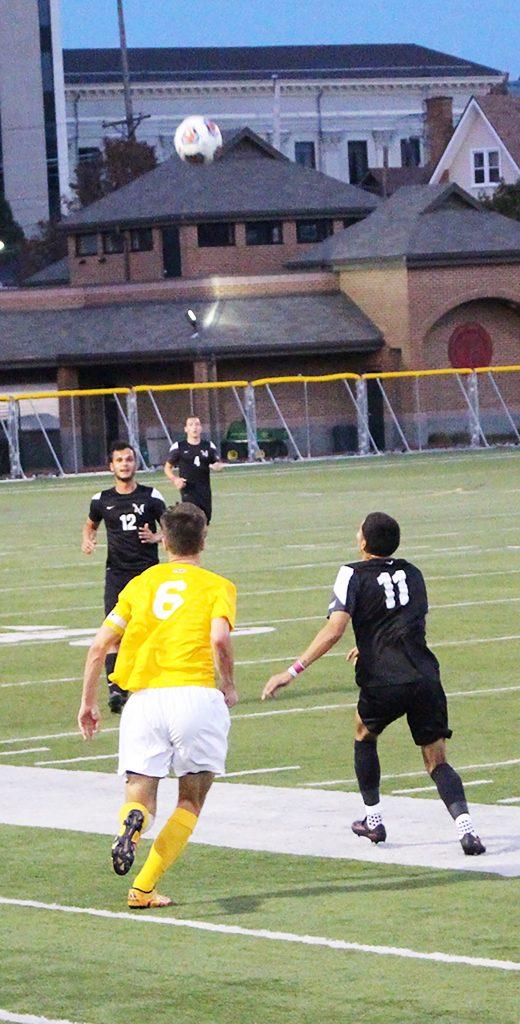 The Gannon University men's soccer team was upset by Millersville University, 2-0, Tuesday in a PSAC Tournament quarterfinal at McConnell Family Stadium, ending the Knights' hopes for a conference title.
Millersville's Jeramy Robbins scored both goals for his squad. The first came in the 22nd minute and the second in the 49th minute.
The Knights, who fell to 11-6-1 overall, will await news on what will come next, and whether their season will continue.
Millersville, meanwhile, will move on to face West Chester at 1:30 p.m. Friday in a PSAC semifinal matchup. It marks the ninth time in 10 years that Millersville has reached the PSAC Tournament semifinals.
Robbins' first goal came off a deflection, and the game remained 1-0 until he fired a shot into the net from 6 yards out just four minutes into the second half.
Gannon had one solid chance in the 31st minute when Chad Barrick floated toward the right side of the box and headed a shot just off the post.
Garrick nearly scored again late in the game but his header hit the post a second time in the 89th minute.
Gannon outshot the Marauders 14-6 but Millersville goalkeeper Darian McCauley collected four saves.
The Knights entered the PSAC Tournament coming off a 1-0 double-overtime win over East Stroudsburg Saturday. The game against East Stroudsburg proved to be a defensive battle for both teams as the first shot wasn't taken until the 10th minute by Stroudsburg's Christian Bukowski. However, he failed to connect with the back of the net.
The score remained tied at zero going into halftime. After the break, Bukowski had a handful of other opportunities to try and get East Stroudsburg on the board but missed all, including two close ones.
In the 81st and 89th minutes he had two shots that sailed high. Luckily Gannon's Jorge Hernandez was on top of his game and didn't let a ball past him.
The game remained scoreless through regulation. Gannon totaled 11 shots on goal while East Stroudsburg tallied nine.
In the first OT, the only shot was taken by Gannon senior Hamza Mourchid in the 98th minute of play but he was unable to score.
It wasn't until the game's 108th minute that Mourchid received a crisp pass from sophomore Eduardo de Bonis Encinoso down the baseline in the left corner of the field.
Mourchid took the pass and fired an arcing shot, bending it like Beckham past East Stroudsburg's goalie and sending it home.
It marked Mourchid's 22nd goal of the season, leaving him No. 3 on the NCAA Division II scoring list.
Leonardo Paiva of Notre Dame, Ohio leads with 24 and Colorado Mesa's Roy Abergil is in second with 23.
BRANDON JACES
[email protected]