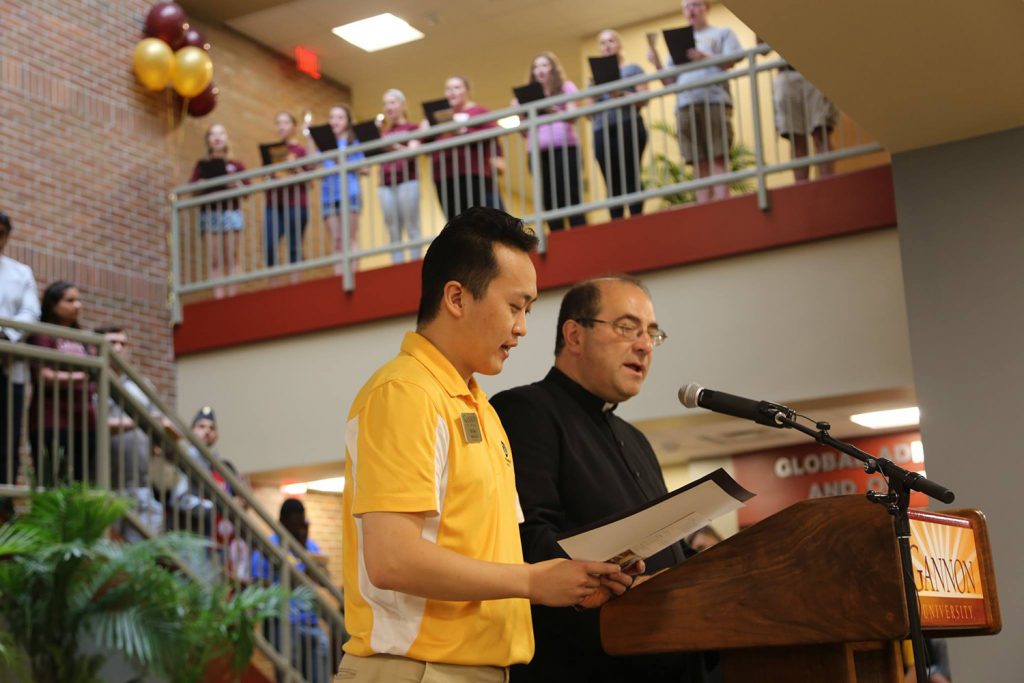 During the recent Alumni Weekend and Homecoming, one of the sites our alums were excited to see was the newly renovated Beyer Hall. My first class at Gannon 37 years ago was in that building, known for its small corridors that made the 10-minute class change an exercise in crowd movement that required some patience.
Improvements in the classrooms were steady and welcome over the years, but those halls didn't change much…until this year. With a serious re-gutting, Beyer has been transformed into a center that is directed toward the engagement and formation of our students.
The former experience of constricted space gives way to the experience of openness and invitation with its beautiful atrium bringing in natural light.
We celebrate our new spaces, as a Catholic institution, with a Rite of Blessing and Dedication, an opportunity to designate the space as set apart and to claim the purpose for which it was created. When we celebrate a blessing, we acknowledge that every good gift comes from God.
We unite our celebration with the words and the ritual of the church in order to affirm that every favor and good thing from God is given with the view that the building to be blessed is to serve the people who will make use of it.The Beyer dedication on Sept. 23 was a special moment for the university. The presence of the most Rev. Lawrence T. Persico, the Bishop of Erie, gave a distinction to the event in that he is the shepherd of the Diocese of Erie as well as the chair of the Gannon trustees, symbolizing the unity of our family of faith with the communion of believers in the community and throughout the world.
Other than a brief welcome from our president, Keith Taylor, Ph.D., the Rite of Blessing belonged to our students who animated most of the ceremony. Testimonies were given highlighting the use of the space for student leadership development, and for the engagement and welcome of our sisters and brothers who come from so many countries and make their home at Gannon.
A particular highlight for me was the reading of the intercessory prayers, proclaimed in various languages by native speakers, our students. Their joy and honor in being able to represent the universal prayer in their own language was evident in their faces and verbal expression.
Each of them knew that they were making a real contribution to the collective prayer of the community. I can't help but think that this is the reality God so desires from us that we can come together as one human family, unique in our diversity, yet called together in friendship, humble service and joy.
The scripture reading was from the New Testament Gospel of Matthew, the words of Jesus: "You are the salt of the earth…you are the light of the world."
The presence of our students from far and near made these words of Christ a lived reality.
the REV. MICHAEL KESICKI
[email protected]