Comp cheer takes the capitol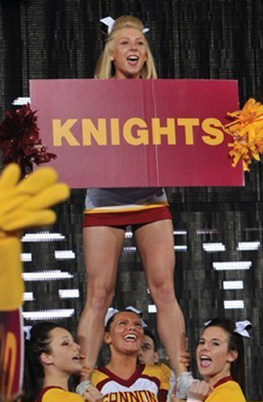 Over the weekend, the Gannon University all-girl and coed competitive cheer squads headed to the Battle at the Capitol in National Harbor, Md., for a two-day competition.
According to the team's schedule, this was the Knights' fifth time performing together and the team's first time with a coed squad in history.
According to coach Meghan Foran, having the coed squad is a great opportunity for males to get involved, and it allows the team to compete in more events and do more in competitions.
Currently, the coed team has had three first-place finishes and ended last weekend uncontested. The all-girl squad has two first-place finishes, one second-place finish and finished third last weekend.
So, back to the weekend recap: the coed team demolished the tournament by going uncontested in not one but two divisions—the Division II and Division III coed collegiate divisions.
On the first day the Knights posted a score of 79.84 but on the second day they turned it up and scored 81.16, finishing with a final score of 80.5.
The coed team improved in many areas of competition from the first to the second day including standing tumbling technique, running tumbling technique, jump technique, routine composition score and performance score.
The all-girls team didn't go uncontested but they did get in the top three while boasting a two-day score of 79.55, finishing behind Shepherd University and Frostburg State.
The Knights produced the highest scores in running tumbling technique with a score of 4.1/5 and routine composition with a score of 9.7/10.
They tied for best score in stunt technique, toss difficulty, jump difficulty and jump technique.
It was a solid weekend for the Knights and I know they got back to campus early Monday morning because I saw them as I was walking to practice at about 6:15 a.m. So kudos to them for going to class that day.
Coming up next the squad will be hosting the Shout! Great Lakes Championship at the Recreation and Wellness Center on Saturday.
BRANDON JACES
[email protected]