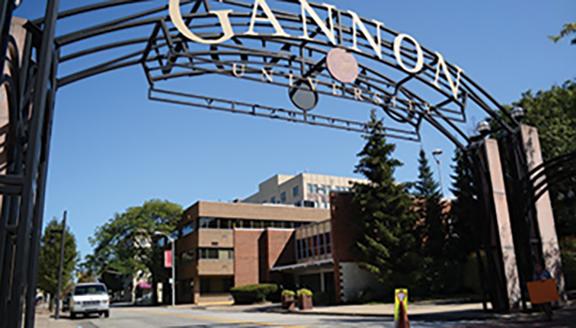 The long awaited renovations of the Nash Library are beginning to take shape and the Gannon students, faculty and staff are invited to share the experience.
Throughout the day on Tuesday, students, faculty and staff have various opportunities to sit it on discussion meetings with design architects Shelane Buehler of Buehler & Associates and Mark Freeman of Perry Dean Rogers Partners Architects.
The expected 15-month long and multi-million dollar renovation process is scheduled to begin in July and will receive an extensive amount of interior and exterior renovations.
The Nash Library has been home to stressful Gannon students during the rough times of finals and the daunting days of last- minute papers since 1973 – needless to say, the renovation will more than likely be welcomed with open arms.
Some of the major complaints about the current library are the lack of private study rooms and food options. Students battle it out when the library opens for the minimal amount of private study rooms. Most students lay claim to a room by leaving a piece of clothing or a backpack in the room to indicate it has been taken.
Although it is annoying to those who show up too late and are left to study in the open area of the library, it is a respected form of room reservation amongst the students.
If you feel you have valuable recommendations or opinions on the renovations, attend one of the meetings Tuesday in the Stubler Room of the Waldron Campus Center.
Faculty and staff are welcome at 11 a.m. and 3 p.m. to share ideas with the design architects, and 5 p.m. is reserved for students. Food and refreshments will be available during the meetings.