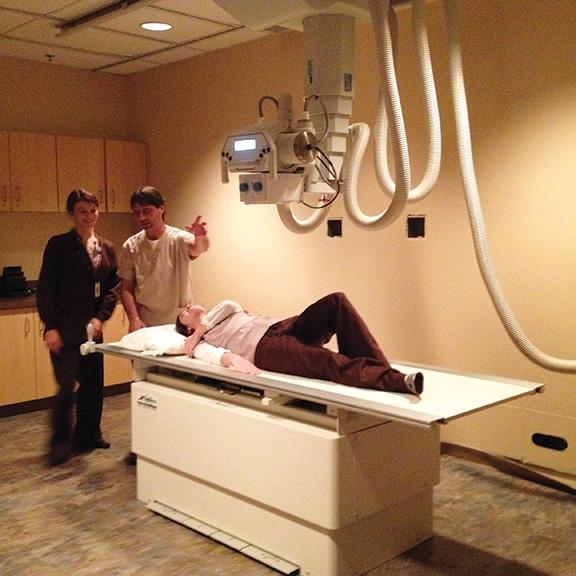 Gannon University's radiologic sciences department will celebrate its 40-year anniversary with the gradation of its 2016 class.
While graduation is still months away, the department will begin celebrating this fall with its open house Saturday, during Homecoming weekend.
From 10 a.m. until noon staff, students and alumni are invited to Room 021 in the Morosky College of Health Professions to learn and celebrate how far the program has come in the past 40 years.
In 1944 Gannon was one of the first colleges to offer training in X-ray technology, which is the predecessor or radiologic technology. The first class of radiologic sciences graduated in 1975.
Since then, the program has expanded immensely and previous students have become practicing radiographers, mammographers, CT and MRI technologists, sonographers, radiation therapists, interventional and cardiac technologists, supervisors and educators.
Cynthia Liotta, program director for radiologic sciences, said that the major accomplishments of the program are the many graduates who embraced the challenges of a two-year program and entered a profession that is immersed in technology.
"Because of what they learn as a student at Gannon University, they are steeped in what we call technology with a human touch," Liotta said.
Nicole Fischer, a sophomore radiologic sciences major, said that the program is a lot of hard work and a challenge being on campus all summer, but is very rewarding.
"I would recommend Gannon's radiology program because of the learning environment and the professors that make these two years a successful and worthwhile experience," Fischer said.
"I am proud to be a radiologic sciences major at Gannon University."
With an immense number of successful students and alumni, the next 40 years promise to be just as promising for the radiologic sciences department.
"So much has changed over the past 40 years – and technology has hugely impacted the field of radiology," Liotta said.
"I can't even imagine what the next 40 years will bring – but I know that graduates of this program will be fully prepared to meet the challenges."
OLIVIA BURGER