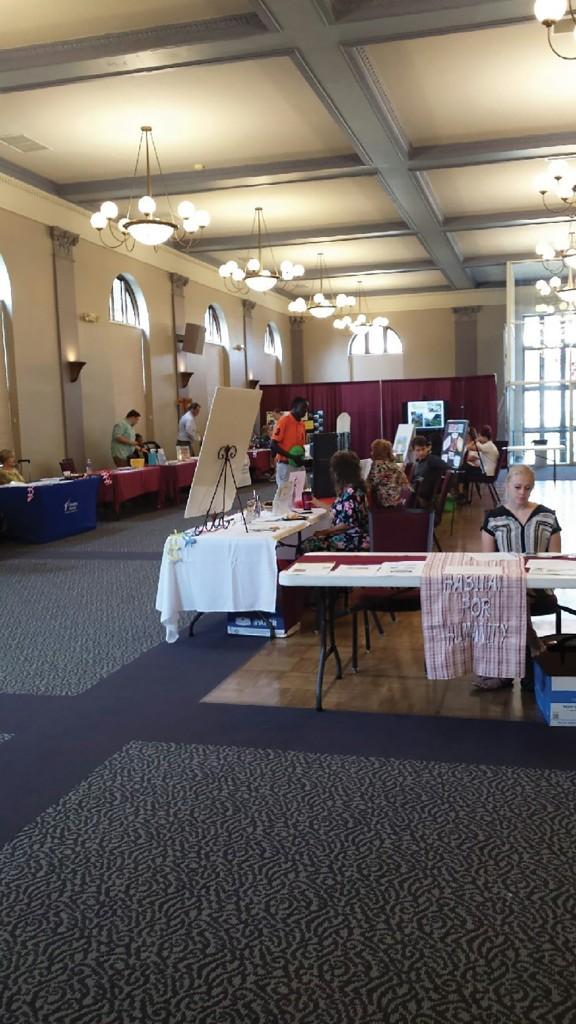 Gannon University's annual Community Engagement Expo was held Sept. 1 in the Yehl Ballroom of the Waldron Campus Center. More than three-dozen local organizations were available to offer service learning opportunities to students at the event.
Kathleen Cahill, the assistant director of service learning at Gannon, has been involved with the expo since its inception in 2008. She said each of the university's three colleges can participate in service learning.
"Our hope is to learn something while giving back," Cahill said.  She said that the expo is useful to faculty and staff as well.
"One engineering professor comes every year and finds a service project for each section of her class," she said.
A total of 37 community representatives participated in the expo and 132 students and 20 faculty and staff members attended the event.
Some of the community representatives seeking student service were Erie's Community Access TV (CATV Channel 2), Habitat for Humanity, the Therapeutic Riding Equestrian Center (TREC), State Parks, the Multi-Cultural Health Evaluation Delivery System, the Erie Branch of Dress for Success and Junior Achievement.
Kimberly Danylko, the program director and riding instructor for TREC, said her organization's program takes many physical therapy students as volunteers.
TREC provides horseback riding lessons to people with mental and physical challenges.  While this is its first year at the expo, TREC also hosts an equestrian-based psychology course in collaboration with Gannon.
"The volunteers we do get are pretty awesome," Danylko said.  "They keep coming beyond anticipated participation."
Danylko said many physical therapy students signed up as volunteers.  Ray Bierbower, an environmental educator at Presque Isle State Park, said he noticed the same trend.
Bierbower said the park offers a range of opportunities to students in other majors, especially in the sciences.  He said they utilize biology and environmental science students as interns to monitor water quality over the summer.  Other jobs are diverse to the park, such as plant maintenance and driving pontoon boats.
Students can work on the well-being of Presque Isle, but the Multi-Cultural Health Evaluation Delivery System involves volunteers with the well-being of Erie's immigrant population.
Nyok Kuoiloi, a graduate student in Gannon's master of business program, said the goal of the system is to deliver health care to new immigrants of Erie.
"When I took this job, my main point was what can I give to people?" Kuoiloi said.  The operation has been around since the '70s and was looking for Gannon's health care students.
Organizations like Dress for Success and Junior Achievement catered more to students in the humanities.
Dress for Success is part of a national organization that literally suits women in professional clothing when they are seeking employment.
Mary Graziano, Erie's Dress for Success program director, said her organization gets more women volunteers because it helps women and that it was especially looking to attract women's groups on campus.
Junior Achievement works with local schools to teach children about the basics of finances starting in kindergarten. The program offers internships in marketing, education, finance and supply chain as well as volunteer opportunities.
Gail Whitney, the district executive director for Junior Achievement, said she joined the expo this year after working with an intern who was a Gannon student.
Taylor Koby, a junior pre-vet major, said she was surprised at the small size of the expo.
"I expected more vendors," Koby said.  "But there were a lot of service opportunities that applied to my major."
Kelsey Ghering